Ok.

I want to share my story of Hurricane Katrina with all of you. I am also doing it so I can have a recollection of what all happened while it was fresh in my mind.

The things I am going to tell you are tough for me to grasp still yet. After being stuck in a building for 7 days and having this centric view that the storm only happened at Methodist/New Orleans East and then seeing devistation in the WHOLE CITY really kills me.

As far as myself, I am alive. My Explorer is still under water, my house is fine, though. I am in one of the only neighborhoods in LaPlace, LA that has water AND electricity. I believe our town got those things back first because we are where the military is stationed. My parents' house 5 minutes away is fine, but they are without power and water, so they are living at my place. My brother's best friend Ronnie and his mom are also living at my place because their house got crushed by a tree. Myself, my brother and my dad are also now unemployed. My hospital is under water, and the nearest UHS facilities (Lakeland and Chalmette Hospital) are also ruined.

Here is the beginning of my story.



Well, Friday was a normal night at work. We were keeping at eye on hurricane Katrina in the gulf, but there were no worries. We had about 26 or so patients on the floor that night.

Saturday was MY planning day. Not once did Methodist tell me anything about mandatory overnight stays for essential personnel or about evacuation plans or anything. I decided that if I was going to make it to work on Sunday night, I would have to bring clothes to stay Sunday during the day. I went ahead and packed my pillow, 2 blankets, a towel, 5 pairs of undies, 5 days of scrubs, 4 days of lounge clothes/pjs, and toiletries, along with my camera. I tried desperately to get to sleep on Saturday afternoon, but I stayed glued to the news reports. CONTRAFLOW...they were going to sometime start CONTRAFLOW traffic. You see, New Orleans TRIED to evacuate for another semi-powerful storm last year, but the roads got insanely clogged. So, they decided on this nice little contraflow idea. Basically, I-10 to and from the city would close to taking people TOWARD the city. This news was very important to me because I needed to get from LaPlace (which is west of New Orleans) to New Orleans for work. I stayed up till 12:30 pm watching the news, and crashed till 3 pm (and believe me, it was shitty sleep). I got up at 3 and saw that at 4, contraflow would begin. I went ahead and took a bath and went to my parents house. My sisters from Illinois were down for a visit (they JUST got there that morning) and they, along with my mom's best friend Mercedes and her boyfriend were basically having a hurricane barbecue. They had boiled crabs, shrimp, hot wings, barbecued wings, hot dogs and hamburgers. I convinced my brother to drive and lead me to New Orleans East (to Methodist) via the backroads. It took me 3 hours to go a 40 minute trip.

I worked Saturday night and hung out in a sleep room Sunday during the day. The storm began to roll in about 2 pm Sunday. This is what the sky looked like (btw, note the green grass...):



More green grass (notice the last apartment complex in the back. this apartment complex is important for later on)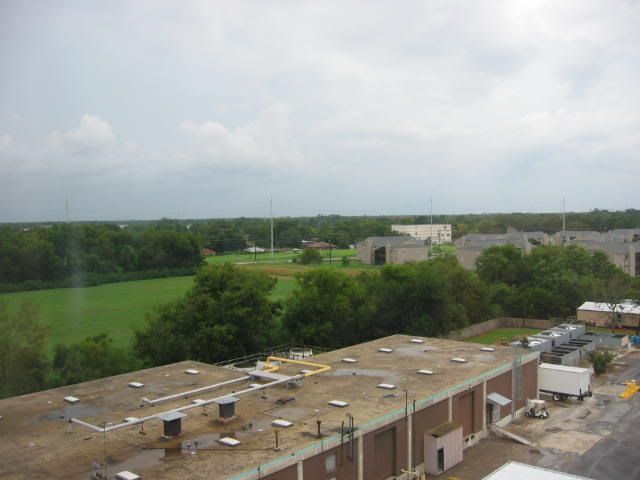 And the storm just got worse...
(downtown New Orleans)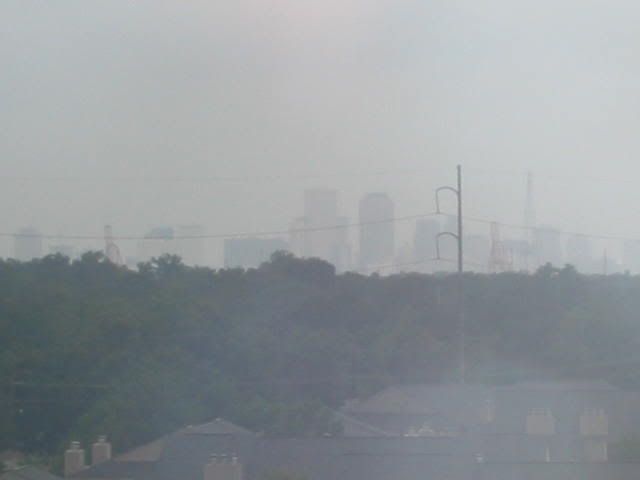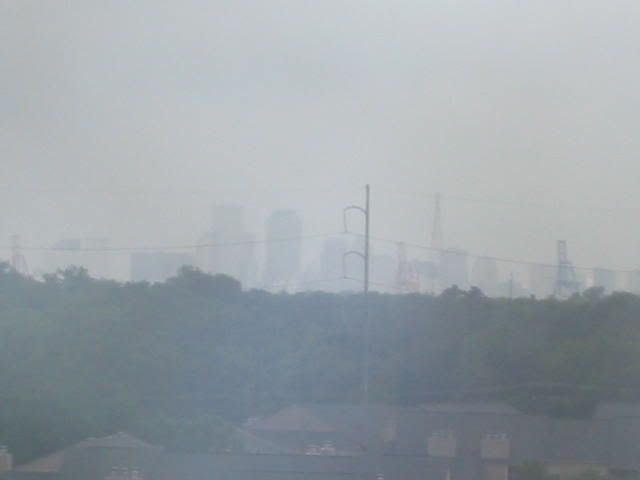 Sunday's big story--IT'S A CATEGORY FIVE WITH WINDS UP TO 180 MPH.

I went to work that night and braced for the worst. I was CLEAN then...my body was clean. I had a little bit of innocence left as well. Here are pictures from Sunday night at work. (The Dream Team)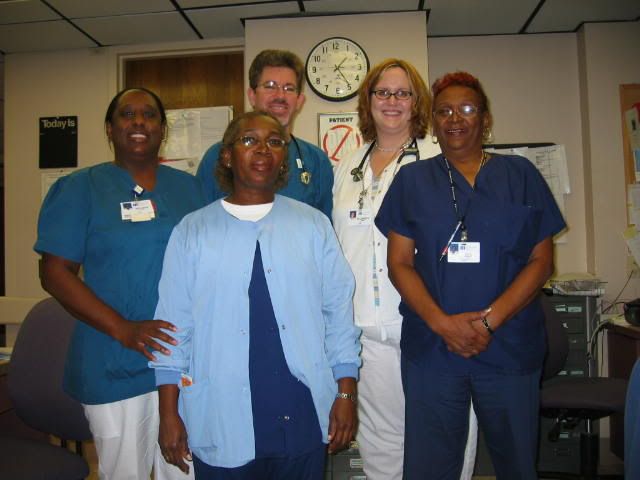 Mrs. Waddell, our nursing supervisor (she had an eye infection)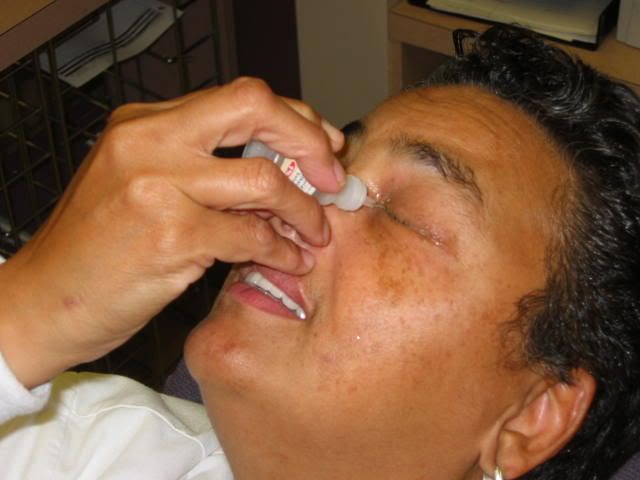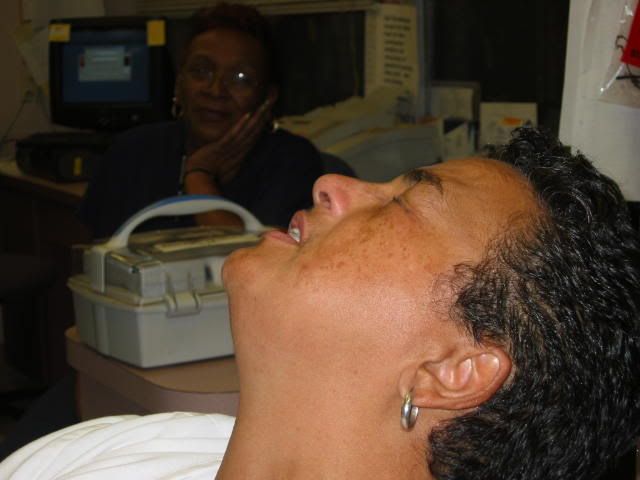 Chuck had an eye infection too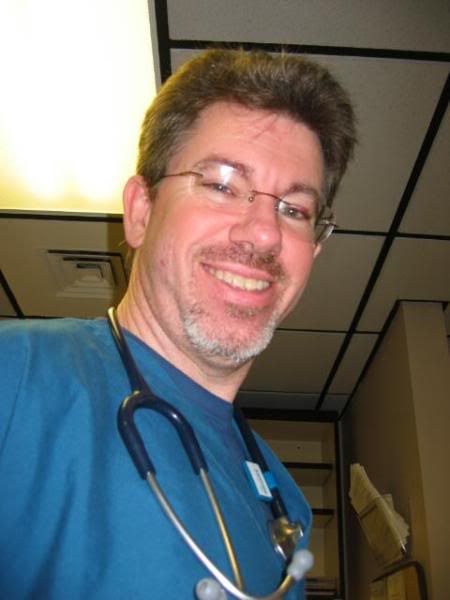 Of course, the Sunday day shift people stayed over and slept Sunday night.
This is Christine. She was hiding.



Monday morning, all hell broke loose.